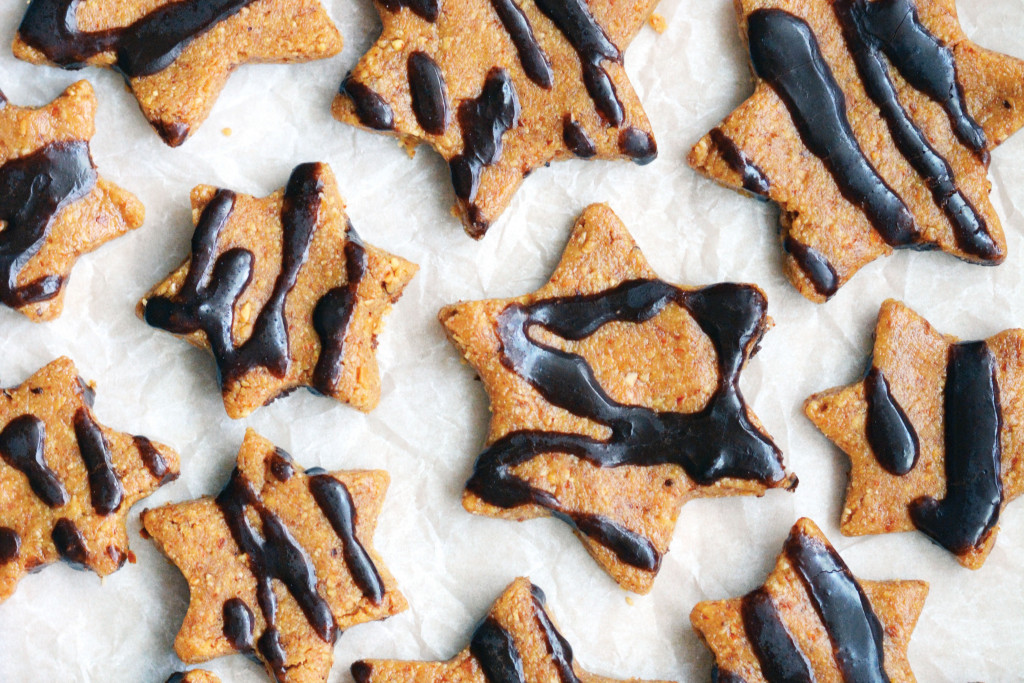 In addition to all things potato, oily and fried, star-shaped cookies are a Chanukah must-have!
When I was a kid, my family used to make sugar cookies from a boxed mix and go to town with our star-shaped cookie cutter. We had so much fun making and eating them, but they were far from healthful, to say the least.
Today I'm excited to share a lightened up version of those cookies! Today's Vegan No-Bake Chanukah Star "Sugar" Cookies are my updated raw, gluten-free and sugar-free tradition. That introduction may not sound all that appealing, but if you like raw desserts, I promise you'll love these cookies!
The cookies themselves are made from only 4 ingredients- almonds, maple syrup, coconut and salt! The chocolate drizzle is just as simple- it's just coconut oil, maple syrup and cacao powder. In addition to the super simple ingredient list, what I love about these cookies is that they hit the dessert spot without leaving you in a sugar coma.
They're pretty much like eating trail mix, but in a fun holiday shape!
Speaking of the shape, feel free to get wild with your cookie cutters and customize these babies for Christmas (or any other occasion) as well!
cookies
1 cup raw almonds
3 tablespoons maple syrup
2 tablespoons coconut oil
⅛ teaspoon salt
chocolate drizzle
1 tablespoon coconut oil, melted
1 tablespoon maple syrup
1 tablespoon cacao or cocoa powder
Instructions
Place the almonds in a blender and pulse until a powder is formed.
Add the remaining ingredients and blend until mostly smooth (you may need to scrape the sides of the blender down a few times).
Scoop the batter out of the blender, roll it into a ball, and place the ball on a clean surface.
Use a rolling pin to roll it out so it's ¼"- ½" thick, then use a star-shaped cookie cutter to cut out the cookies.
Place the cookies on a tray and place the tray in the refrigerator so the cookies can firm up (about 30 minutes).
While the cookies are chilling, prepare the chocolate drizzle by stirring all the ingredients together in a small bowl.
When the cookies are firm, remove them from the refrigerator. Drizzle the chocolate on top. Return to the refrigerator for 5 minutes so the chocolate can harden. Enjoy right away
Source: thecolorfulkitchen.com