In honor of my month of healthy eating on the blog, I of course felt obligated to throw a token bunch of kale into my cart at the grocery store.  No arm twisting necessary — kale is one of my favorite greens, and still seems to be oh-so-trendy at the moment.  So I was ready to experiment with some new kale chips, or a fancy kale pasta, or some sort of kale soup.  But as tends to happen, the kale got a little buried in my refrigerator, and wasn't discovered until a few hours before I left town for Sundance.  Oops!
So at the last second, I decided to whip up a healthy salad before leaving for the airport.  And as seems to be a growing trend whenever I cook and photograph a recipe in a big hurry, it somehow miraculously turned out to be really good and really pretty.  Go figure!
I've been on a kale and cranberry kick lately, so I went the "warm" route and sauted up some shallots and garlic and cranberries for a sweet and savory vinaigrette, then topped it all with some sliced almonds.  I meant to also crumble on some cheese, but it turned out that the salad was great (and arguably a little healthier) without it.  Soooo good, friends!!
So whether this is your first time making a kale salad or your 100th, you've gotta check out the recipe for this one.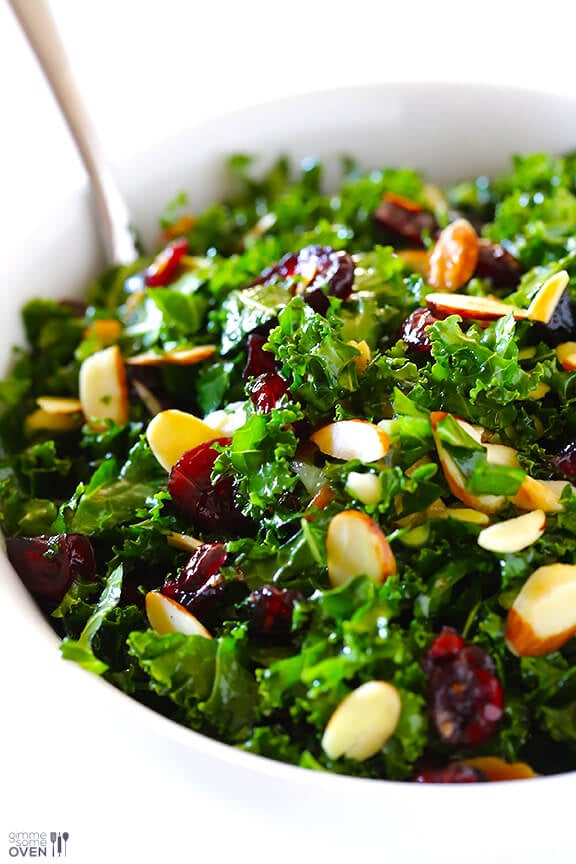 The key to a good kale salad is taking an extra minute or two to massage the kale and soften it.  Awkward sounding?  Yes.  Essential to soft, delicious greens?  Yes.
It's easy.  Anytime you make a kale salad, just toss the kale with a little salt and oil and rub it in for a minute until the kale turns nice and soft and darkens slightly.  So worth it.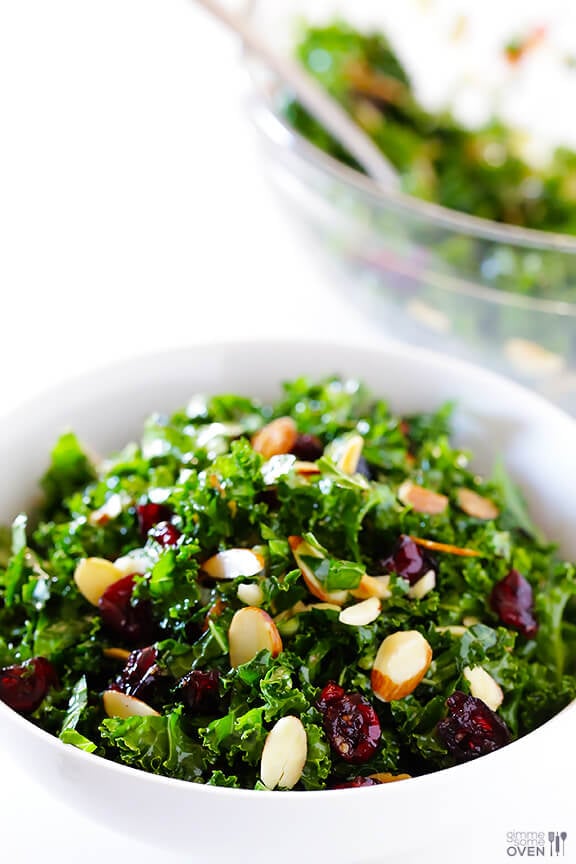 Besides that, the rest of the salad is a breeze as well!  Here's the quick how-to:
First, get those two main ingredients ready to go — some good fresh kale, and dried cranberries.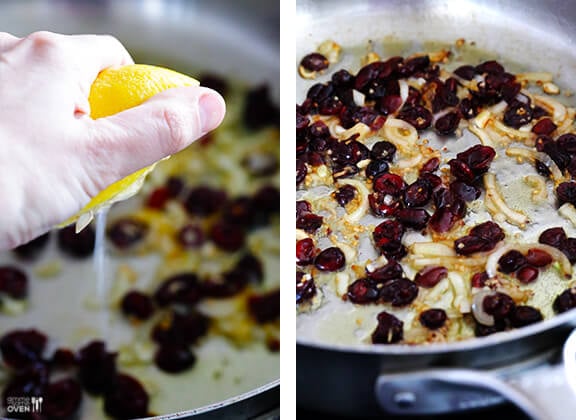 Heat some oil in a large skillet, then saute up the shallots, garlic, cranberries, lemon juice, vinegar, and a bit of honey for the vinaigrette.  The cranberries will plump up just a bit while cooking, and will be extra sweet and juicy.  Mmmm.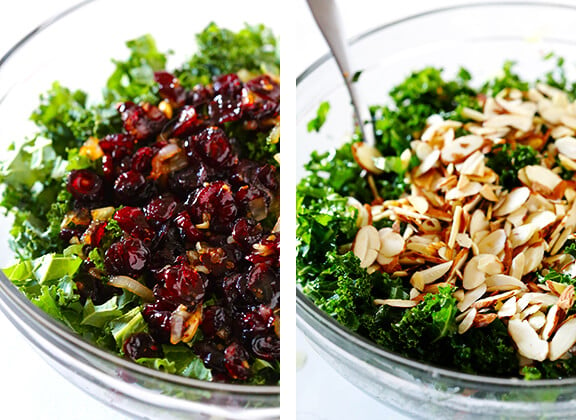 Then spoon the mixture on top of your (massaged) kale, give it a good toss, then sprinkle it with some toasted almonds.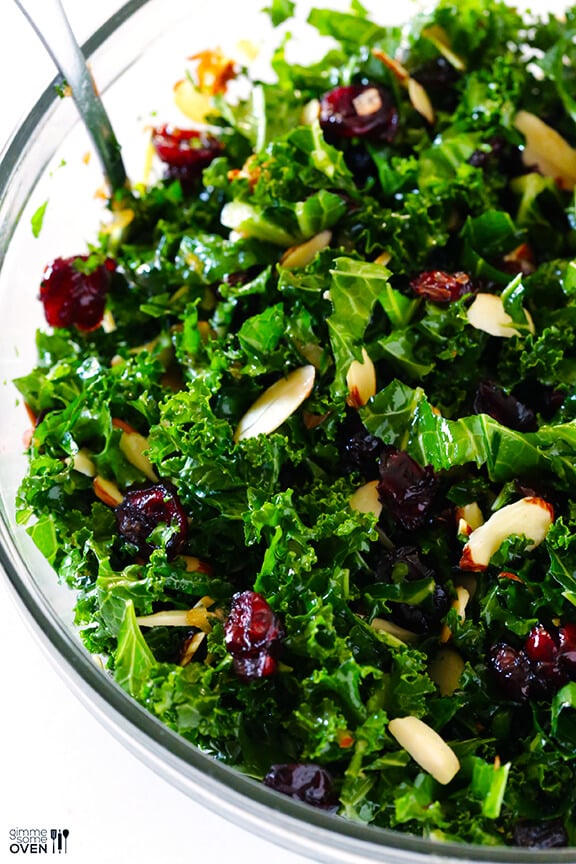 And voila!  In just 10 minutes or so, this gorgeous kale salad is ready to go.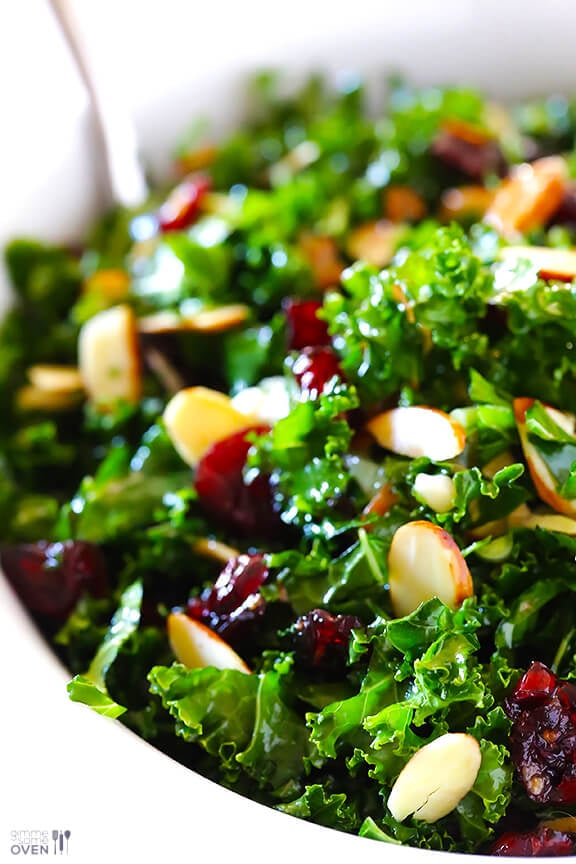 KALE SALAD WITH WARM CRANBERRY ALMOND VINAIGRETTE
This healthy kale salad is topped with a warm cranberry almond vinaigrette.
INGREDIENTS:
3 Tbsp. olive oil, divided
1 shallot, peeled and thinly sliced
3 cloves garlic, coarsely chopped
1 cup dried cranberries
2 Tbsp. red wine vinegar
2 teaspoons honey
juice and zest of half a lemon
1/8 tsp. salt
1/8 tsp. black pepper
1 bunch kale, very thinly sliced
1/4 cup sliced almonds
(optional) 1/4 cup crumbled blue cheese or goat cheese
DIRECTIONS:
Heat 2 Tbsp. oil in a large saute pan over medium-high heat. Add shallot and saute for at least 5 minutes or until tender. Add garlic and saute for 1 minute. Then add cranberries, red wine vinegar, honey and lemon juice and zest, and stir to combine. Season with salt and pepper.
In a large bowl, toss the kale with olive oil and an extra pinch of salt, and massage kale with your fingers for 1 minute until tender. Add in the cranberry/shallot mixture and almonds, and toss to combine. Serve topped with crumbled cheese if desired.
All images and text ©
If you make this recipe, be sure to snap a photo and hashtag it #GIMMESOMEOVEN. I'd love to see what you cook!